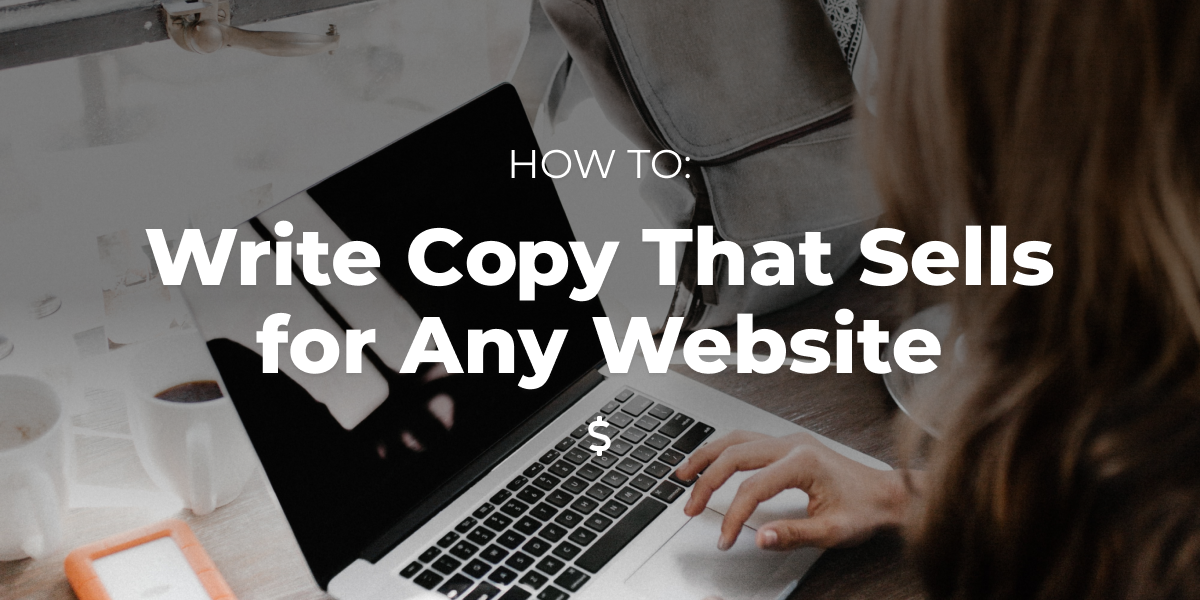 ---
Writing copy for your website is an essential part of running a successful business. If your site is filled with grammatical errors or doesn't have a clear message, then visitors will quickly bounce, meaning a loss in sales for your business. The goal of your website is to get potential customers to view your website, stay on it, and make a purchase or commitment. Whether you're selling a product or service, having compelling copy that converts your audience to a sale can result in increased performance and revenue for your business. 
How do I write copy that sells for my website?
Understanding the importance of well-written copy is just the start of getting your website where it needs to be. Now it's essential you know HOW to write copy that leads to more conversions. To make it easier, we outlined a few basic best practices when it comes to copywriting for your website. 
Research 
Whether you currently have a website that needs a refresh or you're in the process of creating a whole new one, taking the time to research keywords, competitors, and the current market before you begin writing copy will ensure that time and money isn't wasted on content that doesn't promote a sale.  
Keyword Research
Identifying keywords that are relevant to your business and rank highly in Google searches can help you write your copy in a way that boosts your site's ranking on search engines. It's important that you don't stuff these keywords within your content where it feels forced. Be aware of what the keywords are and sprinkle them throughout your copy in a natural way. Simply searching phrases and keywords in Google or using tools such as Google Trends can help you identify keywords that are performing well online in specific areas. 
Competitor/Market Research
Researching competitors that are doing well online can help you identify areas where you can improve on your website. This can include how they are structuring their copy or ways they are phrasing content. Don't copy what they have verbatim but instead see how you can learn from their success and apply it to your own website. A free way to identify competitors that are performing well, and more specifically what landing pages on their sites are performing well, is simply typing a search in Google and seeing what pages are ranked highest. If you type in "auto financing in Texas", the highest ranked pages will appear first.  
Brand Identity
Having a clear brand identity established before you begin writing copy is important for a clear and cohesive message across your website that accurately reflects your brand. To accomplish this, you need to identify your brand voice and brand story. 
Brand Voice
Your brand voice is the tone and feeling you want to give your brand when visitors are reading your copy or viewing your site. Whether you want a serious and straightforward tone or a  casual voice that insights the feeling of talking with a friend, identifying what best represents your company is important for a clear brand identity. For example, All Natural Stone & Grass has a clear brand voice in their copy that works well for their business. The play off using fun phrases and a friendly tone that makes purchasing landscaping materials more fun. Their visitors and audience love it. 
Brand Story
Identifying your brand's story is one of the most important and helpful things you can do to ensure that your brand has a clear and cohesive message across your website. Start by identifying the problems your customers/clients face and provide solutions to how you are going to help solve those problems with your business' product or service. Identify key ways that your business is qualified to solve these problems and how you differ from the competition. Once you have a clear understanding of your customers' needs and how you can help them, you can begin crafting your brand story with quality copy.
Establish a Goal for Each Landing Page
Whether you are a car dealership with multiple landing pages or a smaller business with only a couple, knowing the goal of each page and what you are trying to achieve can help ensure that you write copy that converts. For example, if you are writing for a car dealership's finance page, the goal is to get your customers to fill out a finance application and browse your inventory. Using copy that helps your page rank higher on Google when customers are searching for car financing in a certain area can help more visitors find your page. That's only half the battle. Once they are there they need to take action, whether that's filling out a credit application online or starting the buying process by browsing your inventory. Using clear written copy and CTAs (calls to action) can ensure that your page gets more conversions and more sales. 
Write for humans first
What does this mean, exactly? When you begin writing your copy, write like you would if you were talking to a customer directly. Don't get caught up in stuffing keywords or sounding like you're trying to push a sale. If readers feel like it's forced or cheesy they may bounce from your site. An easy way to avoid this is to read your copy out loud. If you keep repeating the same phrases or if it doesn't read smoothly, then rewrite it. Part of writing copy that sells is making a few rewrites until it sounds the way you want it to. 
Which one of these sounds better to you?
We sell the best certified pre-owned cars in Texas. Our used cars are inspected and are high quality. Save on your next car when you choose Orr Nissan Bossier. 
or
Everyone wants reassurance when buying a used vehicle, and that's exactly what Nissan's Certified Pre-Owned program provides. Every pre-owned Nissan vehicle in Bossier City designated as CPO has to meet a long list of specific criteria, including a rigorous 100+ point inspection, including a full checkup of the powertrain/chassis, body frame, exterior, interior, and details. Plus, all Nissan CPO vehicles come with an extended manufacturer's limited warranty for additional peace of mind.
As you can clearly see, the second example is a way better way to promote used cars. The content flows smoothly and provides valuable insight as to how Orr Nissan Bossier takes care of their customers who buy used. They address what the customer needs and wants, and show how they can provide exactly that. 
Final Review
Before you go live with your website, review your copy and have others review it as well. This way you can be sure that there aren't any grammatical errors or other mistakes. It's also beneficial to have someone outside of your company such as a friend or family member to read your copy for an outside perspective. This can help you be sure that your message is clear and targets individuals that may be looking for your product or service. 
For example, if you are selling car insurance to individuals and someone outside of the industry doesn't understand your messaging or what you sell, then that's a problem. Sometimes using industry jargon can be harmful if your visitors don't understand what that jargon means.
Get Started!
Now that you have some basic tools and pointers on how to write copy that sells for your website, it may be time for a website refresh. At Space, we aim to provide you with the ultimate experience in creating or rebranding your website into one that results in more sales and higher revenues. We provide digital marketing solutions that actually work and copy that actually sells, written strategically for humans first.