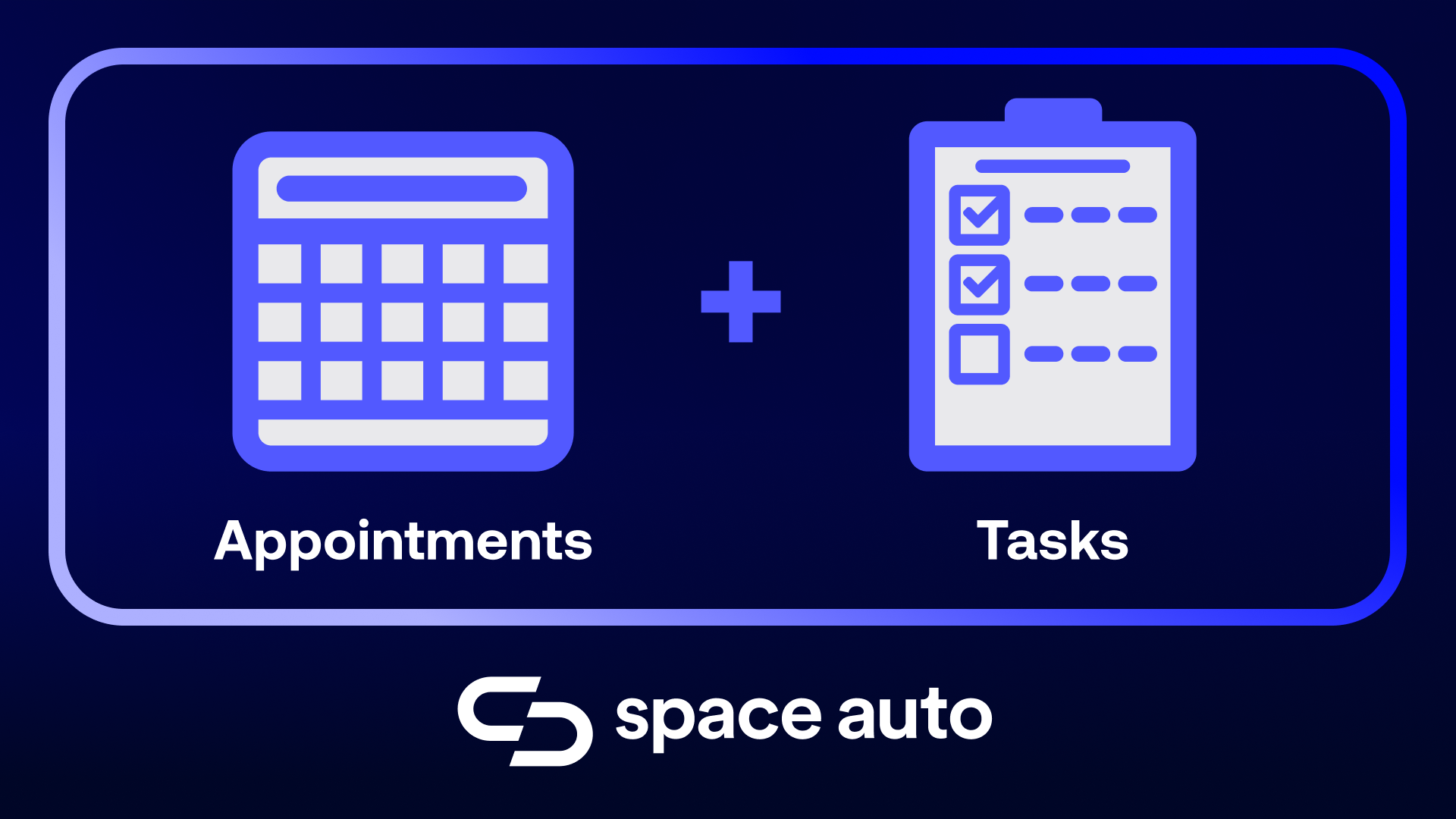 ---
Major CRM Upgrades to Appointments; New Tasks & Automations for Car Dealerships
Our July 2023  Space Auto CRM release notes include some amazing updates that will make life at your dealership easier (because you deserve it.)
Appointments for Car Buyers & Dealers
This release includes a vast upgrade to the process of booking Appointments. It is now a breeze for your dealership sales team and the customer to schedule a meeting.
Customers schedule appointments via Retailing forms hosted on the dealership website and can commit to booking a test drive 

To ensure accurate and valid address information when a form with address information is submitted, we validate the request to verify the address.

Dealers can also schedule appointments with customers via the CRM, by sending them an invitation

Dealers and Customers will see the following

Appointment Types

attached to each appointment

Service

Sales

Delivery

Other

Each appointment will have the following

Appointment Status

Set

Confirm

Declined 

Completed

Missed

Customers will receive personalized reminders via email and text leading up to the appointment

 Dealers can customize their communication stream

Dealer sales reps and managers can view calendars by a customer or see their entire calendar in one view

Dealership management can access in-depth reporting on appointments by status, sales rep, customer, etc.

 

Tasks & Automations for Dealerships
Tasks & Automations for Dealerships
This new feature allows your dealership team to stay organized and on point with a user-friendly interface. Think of this as a reminder app or to-do list so your team doesn't miss any part of the deal or customer process. Every touch of the process helps support an outstanding customer experience.
Tasks are simple to set up within the CRM and can include customizable dealer action items such as

"Make outbound sales calls"

"Get vehicle washed detailed and ready for purchase"

"Follow up on paperwork signature"

Tasks are attached to a

Customer

in the CRM, not a

Deal. S

ome tasks are not tied to

Deals

such as "Wish the customer a happy birthday".
Multiple team members at the dealership can be assigned to the same task

Tasks can be moved around on your

Task Board

by dragging and dropping. They can be prioritized and color-coded based on urgency.

Dealer team members receive

push notifications

via the Space Auto mobile app and / or desktop application so they don't miss updates and reminders

Each task has easy access to your "Customer Cliff Notes "so you can get the customer insights and information you need without getting lost in other parts of CRM. This includes customer's deals, communications, trade-ins, vehicles viewed and more.

Tasks can be automated to keep the processes flow moving. An example: As soon as a customers' financing is approved, the next task, to create a Financing Agreement and Bill of Sale, is automatically generated and assigned to Finance.

Dealership managers can view a

Leaderboard

of all Tasks across the dealership.
Learn more about the Space Auto CRM.