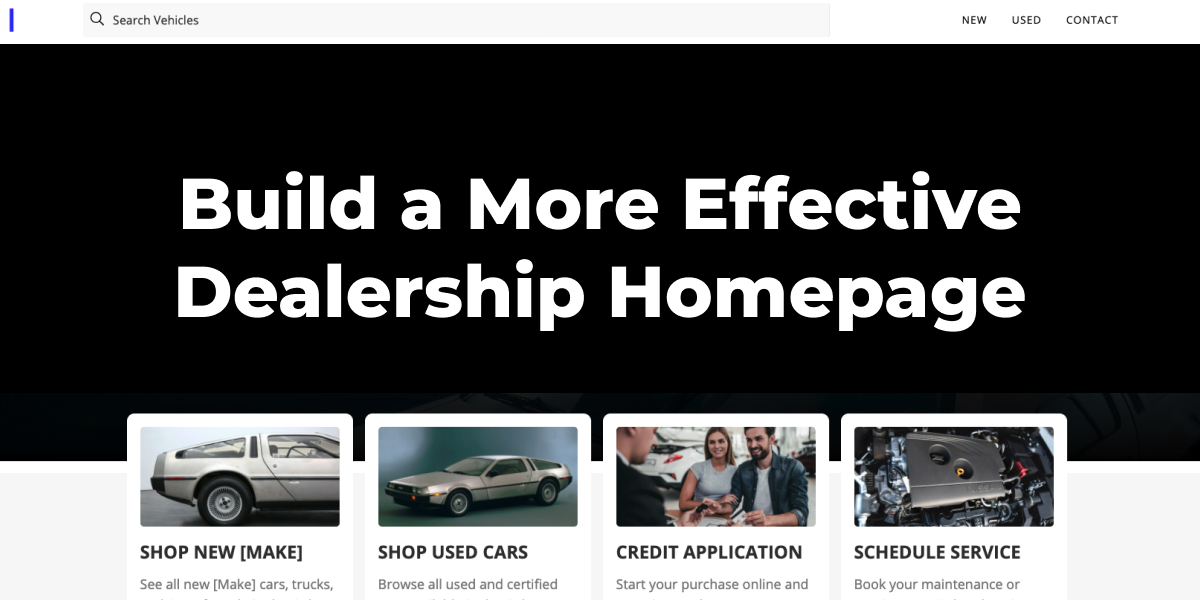 ---
An effective automotive website will have a homepage that is simple to navigate, offers clear calls to action (CTAs), and makes it easy for customers to do business with your dealership.

Here are a few optimizations you can make to immediately increase the effectiveness of your dealership's homepage so that you can get more leads and sell more cars.
Simplify Your Menu, and What's Above It.
Simplifying the top level of your homepage will allow customers to find what they are looking for and enter the sales funnel quickly. 

A nimble and effective navigation menu should easily direct users to your highest valued actions such as highlighting inventory, lead generators (i.e. credit applications, trade-in tools), and service appointments. While you will definitely want to link your "Staff" and "Blog" pages, remember that organization is key.

Consider nesting less-important web pages under a parent as a sub-menu item. In this example, FAQs and Warranty information are nested below the "About" section:

When organizing and simplifying your navigation menu, you may want to check that the URLs for those pages are optimized for better SEO value. 
In addition to the navigation menu, it's important to include basic contact information up top as well. It might be the case that a visitor on your website is simply wanting to call your dealership, or even come by in person. Be sure to include the physical location and contact info at the top so that it's just a click away for anyone wanting to come in-person or talk right now:
Sales/Service Phone numbers
Address
Hours of Operations
Place Banners Sparingly and Strategically
Many dealership homepages are covered with large graphics that communicate several different special offers or events. While it's important to convey that information, these types of banners tend to get in the way of your lead funnel. So that customers can easily enter the sales process via a call to action, you should consider creating a separate landing page to show off certain specials or events.

If you have created a landing page for a specific sale, campaign, or product, you can highlight it on your homepage with an alert bar. This will showcase your unique offering while maintaining a fantastic user experience for your customers. Notice how the sales event is non-invasive, but still prominent to the user:
Make Room for Quality Leads
How many third-party products do you utilize on your homepage? You might have a credit application, a trade-in tool, and a chat function. While it might seem like a good idea to have so many tools at your disposal, you might be hurting your sales team or BDC. Automotive websites with too many vendors, widgets, or pop-ups can be difficult to navigate and confusing to customers.

A trade-in tool or chat widget can be incredibly effective depending on your specific dealership, but be mindful of where you place them. Notice how this homepage utilizes those important third-party widgets, yet still makes room for the prioritized CTAs:

The trade-in and chat are visible and convenient here, while allowing the intended CTAs (Shop New, Shop Used, Credit Application, Schedule Service) to shine.
Prioritize Calls to Action, and Customize Them
An effective dealership homepage will guide the user with simple choices on how to enter the sales process. Ideally these will be placed at the front and center of your homepage so that the customer can quickly decide how they will proceed with their journey.

There is no "one size fits all" recommendation for what CTAs you should include on your homepage. In order to set up your staff for success, you will need to determine what actions are most valuable for your team.

In this example, the dealership is guiding the customer towards scheduling service, or browsing their new inventory:
Another dealership might want cycle more used inventory depending on their current market or sales goals, so that would take precedence over highlighting service:
Prioritizing and customizing calls to action on your homepage will let you control the types of leads you receive, ultimately setting your team up for success.
Less is More
It's frustrating when your automotive website is your worst salesperson. A clean website will not only improve your customers' experience and how they perceive your brand, but it will also set you up to generate more leads and sell more cars. Simplify your homepage and your dealership will be on its way to more revenue.
If you've found your website is not producing the results you want it too, book a demo of our SPACE platform. We will superpower your website so you can sell more and spend less!