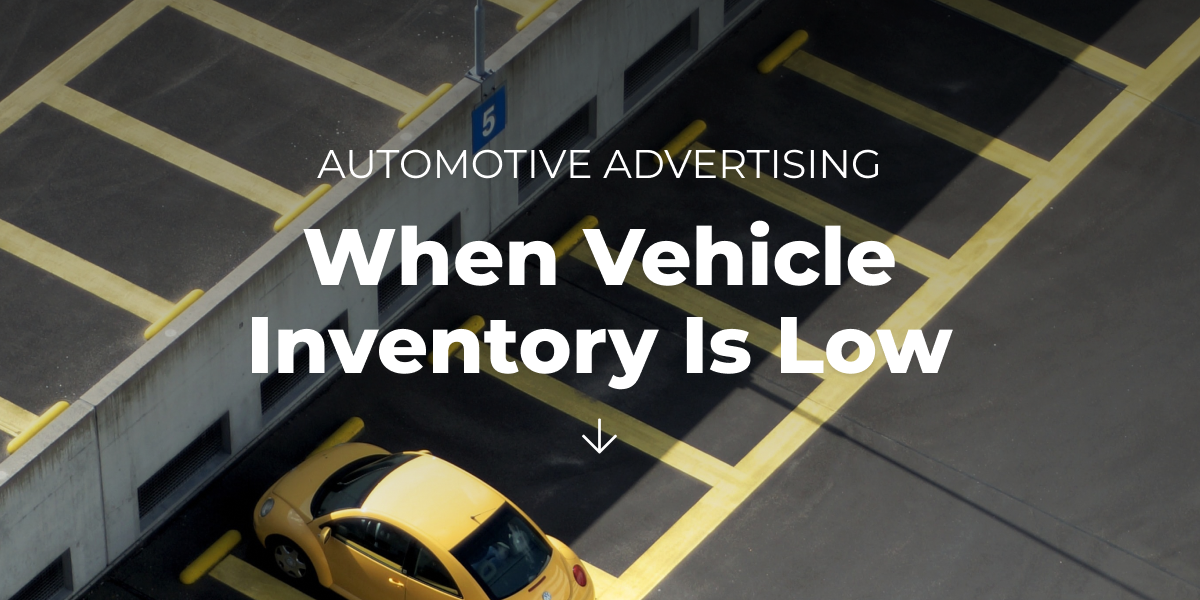 The Importance of Marketing Even When (Especially When!) Your Inventory is Low
---
In 2020, we learned how to lean into threatening circumstances and ultimately, saw the automotive industry thrive in a time when many businesses were not as fortunate. As we face a different issue in 2021 with chip shortages and reduced inventory, we must remember to once again adapt in this ever-changing market. 
While it may seem natural to go dark to avoid too many customers and not enough inventory, this is a short-term solution that could cause negative effects in the long-term. 
So, why should you continue to market your business, and what are you advertising if not new inventory? 
Trade-Ins & Pre-Owned Inventory
The nationwide inventory shortage is no secret to the customer. With limited availability and significantly higher prices, consumers are shifting their attention to used and certified pre-owned vehicles. By adjusting your advertising message to highlight your willingness to purchase vehicles, you are not only driving more used inventory to your lot, but often simultaneously making a sale.
So how can you make your Trade-In message stand out? With every dealership offering "Top Dollar," why should the customer sell to you? 
Consider offering a dollar amount you are willing to contribute toward your customer's trade-in. An extra $1,000 may not seem significant to your business, but it might just be enough to make your audience stop scrolling and claim their offer. 
Landing Pages
Any advertising campaigns you run should be designed to drive traffic to a page on your site that makes it easy and meaningful for a user to submit a lead with their information. Trade-In campaigns work great because they are designed to drive traffic to a specific form for customers to provide information about their vehicle. When offering a Trade-In coupon, we recommend requiring customers to submit their information in order to receive the voucher. Either way, you are building your customer base so that you can continue to market to this audience in the future.
Service Specials
Regardless of the market's status, vehicle maintenance will remain a constant need. Now more than ever, customers are choosing to maintain their current vehicle over purchasing a new one until there is a better selection to choose from. Convert these customers by offering service specials that will earn their business. 
Though the manufacturers' lack of incentives are out of your control, you can offer other incentives that may entice your customers to purchase. Does your dealership offer any type of service warranty? Are you able to offer complimentary maintenance for a certain period of time with the purchase of a vehicle? Consider what your service department can offer to both earn business for the service department, as well as contribute to your sales.
Keeping an Online Presence
While the supply is short, the demand is most certainly there, and "ghosting" your audience is a quick way to lose existing and future customers. Your competitors are facing the same inventory struggle, so don't miss out on a customer searching for a vehicle because the dealership down the road is still running ads and you are not. Staying relevant and present is key to positioning your business for success when supply returns. 
If your marketing strategy could use a boost, contact Space Automotive for a complementary strategy review unique to your brand, local market, and business goals. Our team of experts can ensure you are spending your advertising dollars wisely and staying relevant in this rapidly changing market.