---
AI communications for car dealerships are here today!
When your sales rep responds to your leads and customers in a thoughtful and meaningful way, whether it's by email, text or a phone call, it all takes time, energy, and some brain power. 
As a manager, you also might worry, did your rep:
remember to follow up with every lead?

get all of the previous deal points correct? 

respond in a gracious and friendly tone while leading to a close? 

check for typos, errors, and spelling mistakes?
Space Auto AI Responses is a game-changing, new feature within the Space Auto CRM that not only saves your dealership time and money but also provides customers with the ideal customer experience, every time, with no delay. It also can help eliminate common errors, such as grabbing the wrong deal point or making a spelling error.  
Automate your dealership responses with Space Auto AI Responses 
This innovative update to the Space Auto CRM empowers your sales team with instantaneous, AI-generated text and email communications to send to your leads and customers. These responses are based on the entire customer conversation and relationship within the CRM system. The tone of these messages can be adjusted in many ways to match the appropriate voice of your dealership…  and don't worry, they read just like a human would write.
Important note: AI Responses DO NOT send automatically. The CRM user at the dealership can always review and edit the message, or choose not to send it at all.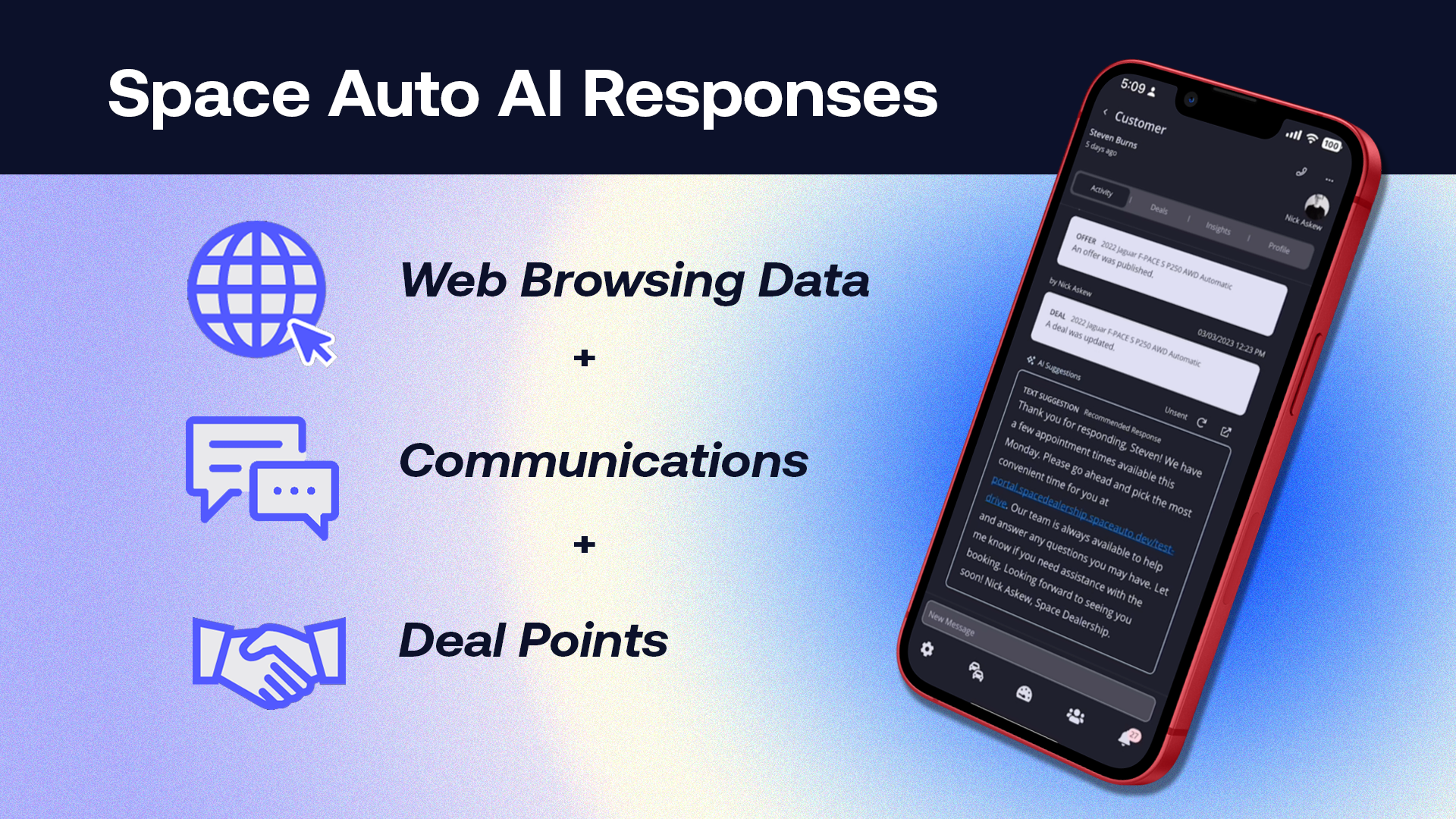 Taylor Bartholomew, Chief Product Officer at Space Auto, demonstrates in the video above, how this technology will arm your sales team with instant, accurate responses that will help your dealership close deals. 
Here is an overview of how Space Auto AI Responses works:
Space Auto AI Responses is a feature that is part of the

Space Auto CRM.

Your dealership must be an active CRM customer to use this program.

Schedule a meeting here

to learn more. 

Space Auto AI Responses inputs all chats, emails, text messages, notes, and any parts of the deal logged into the CRM in real time.  

It then generates a

suggested

next message immediately after each interaction with the customer.

You can always preview and edit the response before responding. Responses are NOT sent automatically. 

If you don't like the response, you can hit "refresh," and the system will generate a different version of the same message until you find a reply you like.

Simply hit the "send" button.

You can always delete the AI Response and write your own.
You can cater the voice of your communications to your dealership's tone. Examples could include, "Casual, warm, funny". For a luxury dealership tone could be more aligned to, "professional, affluent, intellectual", or maybe, "Mid-western, wholesome". You can explore tone options by testing different styles, and Space Auto AI Responses will generate different responses. 
You can set goals of where you want to lead the customer with your messages. This could include, "trade applications", "come in for a test drive", or "fill out a credit application".  Space Auto AI Responses will guide the customer conversation in that direction.
We Leveraged AI Learnings from ChatGPT and OpenAI
The technology team at Space Auto uses the same powerful and rich, large AI language model as ChatGPT for Space Auto AI Responses. All of the dealership customer data is fed into this model to return automated responses, so dealers are getting the most current and superior AI technology in every moment of every conversation.
Space Auto AI Responses use "adaptive inputs", which bring in all the data from your customer record into the AI language model, allowing the system to continually adjust and improve the responses based on ever-changing conversations, context and customer data.
We know that dealerships are excited about the innovation and opportunity that Space Auto AI Responses holds in store. Schedule a meeting with our team today to see how our powerful CRM can help your dealership grow business.